Location/Map:  Desert Willow Conference Center; 4340 East Cotton Center Blvd.; Phoenix, AZ 85040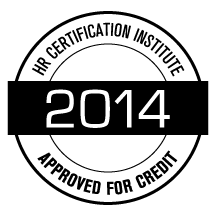 "The use of this seal is not an endorsement by the HR Certification Institute of the quality of the program.  It means that this program has met the HR Certification Institute's criteria to be pre-approved for recertification credit."
Recertification Credit Hours Awarded:   9  (General)
November 13, 2014        12:30 p.m. - 4:00 p.m. (Pre-Conference)
Topic: AAP Boot Camp – Affirmative Action after March 24, 2014
Phil Akroyd, Biddle Consulting Group, will review step by step a checklist with participants of what is required from Federal Contractors in the affirmative action after March 24, 2014.
Join us this evening for a Wine/Cheese Reception from 4:30 p.m. - 7:00 p.m.
A great opportunity to network while avoiding traffic hour!
Location/Map: Homewood Suites by Hilton – 4750 East Cotton Center Blvd, Phoenix, AZ 85040
(NOTE: Hotel is approx. 3-4 blocks from the Conference Center)
 November 14, 2014        7:00 a.m. - 5:00 p.m. (Conference)
A great line up of speakers -- Marvin Jordan, District Director-OFCCP Phx/Las Vegas; Mary Jo'Neill, EEOC Regional Attorney – AZ, NM, CO, UT; Dr. Richard Fischer, Former OFCCP Testing Guru; Lilly Skokrai, Director SourceCast; Rob Speakman, Welch Consulting Service, etc.
LUNCH & KEYNOTE – Motivational Speaker: Dr. Richard Pimentel
Topic: Shattering Myths about IWD's in the Workplace – Author of the highly acclaimed Windmills program designed to change the attitudes of supervisors who hire and promote employees with disabilities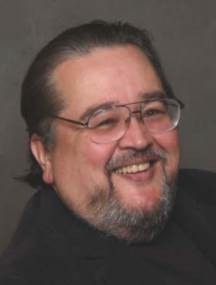 Dr. Richard Pimentel is a nationally renowned expert on Disability Management, Job Recruitment, Job Retention, Americans with Disabilities Act, and Attitude Change. As a consultant, keynote speaker, professional trainer and author of numerous curricula and training guides, Dr. Pimentel is distinguished by his ability to predict industry trends and the needs of employers. He has designed and implemented return to work systems for the private sector and government employers throughout the country. He has pioneered proactive risk management, return to work and equal employment opportunity (EEO) programs to generate both cost-savings and enduring attitudinal changes in corporate culture. Dr. Pimentel is an acknowledged authority on the Americans with Disabilities Act (ADA).
Richard was the Chairperson of VACOR, the Department of Veterans Affairs Civilian Advisory Committee for Rehabilitation. Richard is a senior partner in the firm of Milt Wright & Associates, Inc. for which he conducts training and consultation nationwide on topics as diverse as Attitudinal Change in Health & Human Services, Hiring and Promoting People with Disabilities, Motivation of Individuals with Employment Barriers, The Future of Disability Management, Return-to-Work Issues, and Emotional Ergonomics™. He has authored and co-authored numerous books and professional publications, including Developing the New Employee, What Managers and Supervisors Need to Know About the ADA, Taking Control of Workers Compensation Disability Costs and the Job Club Placement Model for the Department of Veterans Affairs.
A full length motion picture of his life story Music Within starring Ron Livingston, Melissa George and Michael Sheen was created and released in theaters throughout the country in 2007.
This is a conference you don't want to miss!!!
REGISTER TODAY!
Not a Member? 
Do you want to attend at the discounted Member registration cost?
We will extend your membership through December 31, 2015!
Luncheon Registration Form (Invitees of JAG Award Nominees or Sponsors)
A special 'THANK YOU' to our conference sponsors:
*Cancellation Policy (for paid event registration only): Full refunds for paid event registration cancellations will be made if received by AZilg more than thirty (30) calendar days before the date of the event for which you are registered. Cancellations between thirty (30) calendar days and eight (8) calendar days before the program's start date will result in a refund of only 50 percent of the registration fee.  Cancellation seven (7) calendar days or less prior to the program's start date will result in zero (0) refund.  Failure to notify AZilg of a registration cancellation before the program's start date will result in no portion of the registration fee being refunded. Refunds for registration cancellation are processed only if requested in writing to info@azilg.org. Refunds for registration cancellation are processed after the program's date of completion and using the same method of payment as the original registration fee payment.*